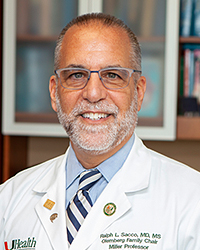 Dear friends and colleagues,
2021 continued to present its challenges. Continuing virtual care, and ensuring the inclusion of all, our more than 101 clinical and research faculty have allowed us, together with neurosurgery, to be nationally ranked at #25 by U.S. News and World Report as one of the top departments in the country. Our department is ranked #18 in NIH funding, with 68% of clinical and research faculty having funding. Additionally, focus on innovation and physician education ranks our resident program in the top 10 neurology training programs and one of the largest in the country with 44 residents and 23 fellows.
Whether in your home, via telehealth, or in person, at one of our more than 12 clinic sites, our focus remained, bringing our world-class neurology specialists to you so as to provide convenient neurological care.
Through interdisciplinary collaborations with neurosurgeons, radiologists, geneticists and other disciplines, we continue to seek better treatments and prevention for neurological disorders through cutting edge research. We continue to be a NINDS regional coordinating center for neurological trials (Neuro-NEXT) and stroke trials (NINDS-RCC).
Whether you are a patient, a referring physician, a researcher, or a future resident or fellow, I would like to welcome you and thank you for your continued support. I am honored to be part of a team of faculty and staff with a rich tradition of academic and research excellence and to continue our mission to provide the highest quality of innovative patient care; to be at the forefront of research in neurological disorders; and to be among the best training programs for future clinical and academic neurologists.
Sincerely
Ralph L. Sacco, M.D., M.S., FAHA, FAAN