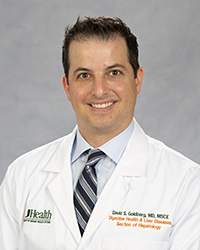 Dr. David Goldberg is an associate professor of medicine in the Division of Digestive Health and Liver Diseases at the University of Miami Miller School of Medicine. Dr. Goldberg received his medical degree at the Mount Sinai School of Medicine. He completed his internal medicine training at New York Presbyterian-Columbia University Medical Center. He then went on to complete fellowships in gastroenterology, and then transplant hepatology, at the Hospital of the University of Pennsylvania, during which he earned a Master of Science in Clinical Epidemiology. Dr. Goldberg joined the faculty at the University of Miami Miller School of Medicine in 2019, after being an assistant professor of medicine at the University of Pennsylvania for four years.
Dr. Goldberg specializes in the care of patients with chronic liver disease and cirrhosis, including patients waitlisted for a liver transplant. His research is driven by the increasing prevalence of cirrhosis and end-stage liver disease, in the face of a continued shortage of available organs for transplantation. He uses tools from epidemiology, biostatistics, health services research, and empirical bioethics. His research focuses on several areas, including: 1) disparities in access-to-care for patients with end-stage liver disease and hepatocellular carcinoma; 2) optimizing allocation of livers for transplantation; 3) using novel biostatistical methods to better characterize donor allograft quality, predict transplant outcomes, and expand access to kidney and liver transplantation; 4) increasing the number of lifesaving organ transplants by transplanting organs from deceased donors with Hepatitis C into Hepatitis C-negative recipients.
Dr. Goldberg has received funding from the National Institutes of Health, private foundations, and the pharmaceutical industry (via investigator-initiated grants). He is currently the PI/Co-PI of two R01 grants funded from the NIDDK/NIH focused on developing new models to estimate the survival benefit of liver transplantation, and to develop better models to predict outcomes of kidney and liver allografts.
Dr. Goldberg has published more than 100 peer-reviewed publications including first-author papers in the New England Journal of Medicine and JAMA. Dr. Goldberg was the co-PI of the first published clinical trial of transplanting kidneys from Hepatitis C-infected donors into Hepatitis C-negative recipients which was featured on NBC Nightly News and in TIME magazine, and was awarded the AST Innovation Award by the American Society of Transplantation in 2020.