Every day, our faculty and graduate students are daring to ask new, bold questions. They're daring to examine, explore and investigate new ideas, new approaches, and new technology that will ultimately advance the standard of care for not only the community right here in Miami, but elevate health care for individuals around the world.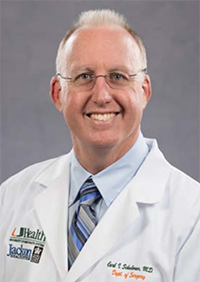 As the Executive Dean for Research at the Miller School of Medicine, I take my responsibility to be the voice of our faculty undertaking this important work seriously. I share their needs with leadership, champion their projects and work to secure the infrastructure, support, and resources they need to continue asking important questions – and finding answers.
This office plays an integral role in clearing the path for exciting new studies and ensuring the way forward is clear to bring findings from the bench to the bedside. Depending on the research project and need, that may come to life by:
Connecting researchers with resources that fill a need — whether it's funding, manpower or other research opportunities

Spearheading the strategic direction of research to ensure it aligns with the needs of our school, organization, and community
One exciting way we support our faculty is through our internal awards program. Interested faculty can apply for funding for research projects. This program not only drives our research, but represents an important investment for our university, generating interest, excitement, and hope in new projects.
Another important undertaking in the Office of Executive Dean for Research is training the next generation of scientists. This office supports, guides, and encourages all graduate students in the biomedical and medical fields who are on the journey to seek careers — and make a difference — in the lab.
Research is the only way we will get better at understanding, caring for, and treating our patients. I look forward to continuing to serve our faculty in their search to innovate and uncover new, better, and exciting ways to deliver care to our patients, our community, and the entire globe.